Product Description
CALL FOR PRICING and ORDERING!!!! For detailed pricing and to place an order for the Olympic Screen please call 1(800)654-4577 ext 234.
The Genius Olympic Pull Down Retractable Screen is ideal for openings up to 16.5 feet wide and 10 feet tall.
Available in a manual version operated by a pull chain or a motorized version operated by a portable and easy-to-use remote control.
CLICK FOR MEASURING AND INSTALLATION GUIDE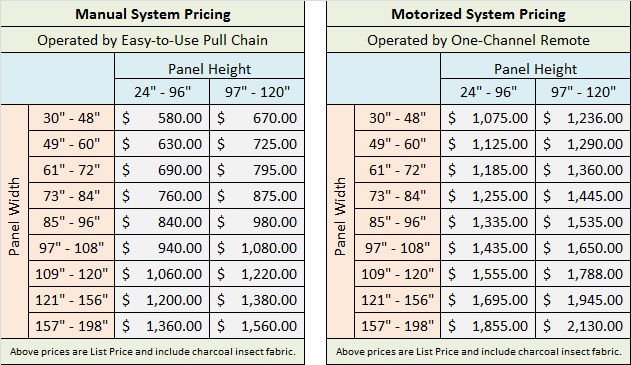 Color Options: White, Desert Tan, and Brownstone
Available Screen Cloth Options:
Charcoal Insect Screen
White Solar Control Sheer Weave 1000 – 75% UV Blockage : Add $5 per square foot to List Price (width x height / 144 = sq ft)
Charcoal Solar Control Next 5 – 92% UV Blockage : Add $7 per square foot to List Price (width x height / 144 = sq ft)
Certain size restraints apply to each fabric:
Insect Screen: Max Width = 198″ & Max Height = 120″
White Sheer Weave: Max Width = 157″ & Max Height = 83″
Charcoal Next 5: Max Width = 118″ & Max Height = 118″
Other Options:
Wind-Sun Sensor – will automatically adjust the screen according to programmable wind and weather conditions.
Shipping Information:
Screens under 100″ will ship via parcel mail.
Screens over 100″ will be shipped via LTL carrier. The minimum freight charge for LTL carriers is $150 per order.
PLEASE NOTE: Colors displayed may appear different than the actual color depending on your monitor's color settings and resolution.
This is a custom item by adding this item to your shopping cart you verify that all sizes and information are correct as listed.