Phifer UltraVue® Insect Screen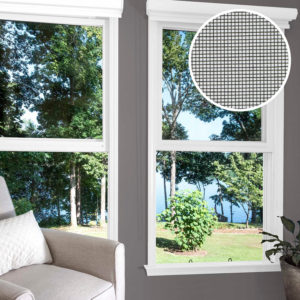 Imagine being able to see clearly through your window and door screens while keeping bugs out. With UltraVue window and door screens, that's exactly what you get to enjoy! UltraVue screens are constructed from a special high-strength mesh that is nearly invisible, yet still able to keep out even the smallest of insects. As a result, you'll enjoy clearer views, increased light admittance, and improved airflow without having to sacrifice your protection from pests. If you're looking for window and door screens that provide the ultimate visibility and protection, look no further than UltraVue door and window screen mesh from DIY Screens Direct! 
Showing all 2 results
Phifer UltraVue Improved Visibility
It's not just about keeping the bugs out, it's about what you see when you look through your window or door. With UltraVue insect screens, you'll have a clearer view of the outdoors with less glare and more visibility. These screens are made with a special weave that allows for more light transmission and outward visibility, resulting in improved contrast and clarity. Another element that makes this such an effective invisible screen mesh is Phifer's new Water Shed Technology™ which is a coating on the mesh that repels water and carries dirt and grime away.
Invisible Insect Screen for Sale Online
You don't have to sacrifice your view to keep the insects at bay! With Ultravue Insect Screen, you'll enjoy fresh air and the gorgeous view outside while also reducing the insects that access your space. UltraVue screen mesh for windows and doors is constructed with 30% smaller openings than standard screen which means even the smallest of insects cannot cross the mesh barrier. While you may worry that the tighter-woven mesh will result in reduced visibility, that's not the case with UltraVue, which passes the invisibility test every time! 
Five-star reviews of UltraVue Insect Screen are in! Customers from DIY Screens Direct report:
"Visibility is phenomenal."

"We look out over a lake and wanted a screen that would give us the best unobstructed view…it did the job."

"Thinner yarn, resulting in it being suggested mostly for small sized doors and window applications, was installed for me on large 4′ x 8′ porch panels with no installation problems, and much, much improved view. Great product."
To sum it up, if you want window and door screens that offer increased visibility, airflow, and light, with stellar insect blockage, UltraVue Insect Screen is your screen solution! Plus, it can be installed in a variety of sizes when you order from DIY Screens Direct. Select from standard sizes or custom cut insect screen options, whichever best suits your needs.
Standard size UltraVue Improved Visibility Screens for sale online at DIY Screens Direct:
36 Inch x 100 Foot Roll 
48 Inch x 100 Foot Roll
60 Inch x 100 Foot Roll
72 Inch x 100 Foot Roll
Custom size UltraVue Insect Screen Mesh for sale online at DIY Screens Direct:
36 Inch x Custom Cut Length
48 Inch x Custom Cut Length
60 Inch x Custom Cut Length
Does this sound like what you've been searching for? We're glad! Order UltraVue Insect Screen online here or give us a call now to have your replacement insect screen mesh delivered directly to your door from DIY Screens Direct!